This is the season to reflect on what we are grateful for.  I think about all the love and companionship my pets have provided me over the years.  Each, with their own personality, add something unique, joyful and often humorous to each day.  We have a special bond that grows with time.  I am grateful for those organizations and volunteers who rescued them out of bad situations and placed them in my path for adoption.  Often, for each rescued animal, it takes several people working together to put the animal into the pathway of a loving home.
The spay and neuter programs, supported by the Northside Pet Connection (NPC) and others, are so important to ensure each cat and dog will have a future in which they are properly cared for, both medically and emotionally.  It's been an honor of mine to distribute spay and neuter vouchers through-out the Northside for the past 4 years.  This is a way I have been able to thank those who brought me my pets – paying the thanks forward so as to help sustain programs that benefit animal welfare.  The NPC is 100% volunteer and we need volunteers to sustain the NPC's mission to educate the public about the importance and value of spay and neuter of animals.  If you are interested in helping to sustain the NPC mission, please contact Catherine (NPC membership chair) at 209-878-3860.
Since July, NPC has participated in the July 4th BBQ in Coulterville and the 49er Festival in Groveland to recruit new members, raise funds and educate the public about NPC services.  In addition, the NPC has had two yard sale fundraising events at Greeley Hill School and Ken's Hardware Store.  On November 1st, the NPC had its annual dinner in Coulterville to thank members and volunteers for their involvement in the NPC program.  Election ballots were tallied to elect new officers.  Catherine Meyn was elected to membership chair.  Kristen Elgen continues as secretary.  Shirley Burk was elected as treasurer.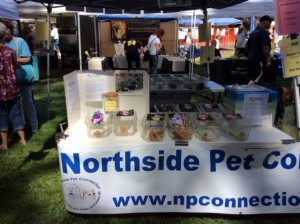 In October, the NPC distributed 28 spay and neuter vouchers and 6 medical vouchers.  As a reminder, the NPC has up to 35 spay and neuter vouchers available per month.  All vet clinics do accept these vouchers which substantially reduced the cost of spay and neuter.
Please call 209-732-6194 to request vouchers.  For Spanish speakers, please call 209-852-9440.  Please provide your name, phone number, mailing address and how many vouchers are needed.  Messages are checked about 1 time per week.
Happy Thanksgiving!